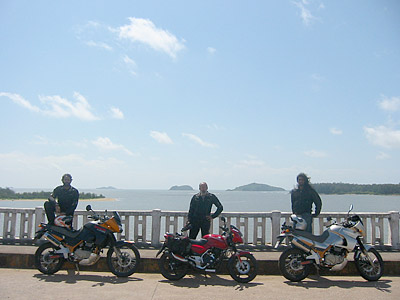 Managed to get some sleep last night at Kundapur. The food so far has been really awesome even at the roadside cafes. Sure beats Taco Bell!
We set out today after a delicious breakfast of idli, vada and fantastic coffee. The south Indian coffee is supreme!
Before long we got to the sea. It was a gorgeous day and after the recent rains, the landscape was really lush right up to the road. The roads were very good. 2 lane highway with coconut trees all around and scattered lotus ponds. The landscape was absolutely breathtaking. Got a lot of video footage which I can't wait to see myself.
Just before we got to Goa state line border, we stopped of at this bridge in Kanwar where the backwater river end up at the ocean. Here's a pic. of the 3 astronauts.
The traffic was sparse in the countryside and horribly congested as we got close to the towns and all the way to Panjim.
We are about to get some dinner and sleep. Tomorrow, we continue up north. Cheers.


Technorati Tags: India Bike Trip