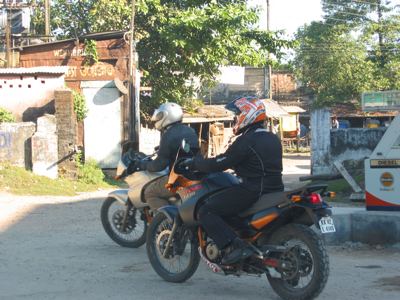 Tuesday, November 8
I was getting late getting to the bike in the morning as i was still uploading images. Didn't know whether i would have any connection at the next halt. We started out by 8 am and headed towards Siliguri, West Bengal. The weather was just fine and the road was kind as well. We took a slightly different route than the one we took from Gangtok to Coochbehar. This road was fine as well and we had a fantastic view of the Kanchen junga mountain range on our right. at around 29,000 ft, hat is the second highest mountain range in India after the Everest.
Siliguri was only 140 km from our start and we had planned on servicing the jeeps there during a long lunch after which we would carry on towards Kishangunj or Raigunj, which were 70 - 150 km from Siliguri towards Calcutta. We had been told that the roads were quite bad and that it would take forever to get through. Sound like Bihar roads. In fact, we were to get on this road from bihar, which we avoided due to bad roads. Now we have no choice.
We received word that there was no decent accomodation in those 2 tiny towns and it would be another carnival scenario around the bikes and us, if we ended up there in the dark. The reports on the roads were quite conflicting as well. some say that there are ok and some say otherwise. The only way to know, is when we get on them.
a consensus was taken to stop for the night here in Siliguri and wake up early and roll by 5:30 am, without fail and make the 450 km ride to Behrampur as planned earlier.
We had lunch at hotel Jamini which is in the not so heavily populated part of town with good parking. Got some rooms here for the night. I think we are the only guests here. Weird little place. Everything is very slow here.
Sanjeev Shah our film maker friend and crew member for the last 4 weeks from Amritsar has to get back to Ahmedabad and is catching his flights out of Siliguri tomorrow. We will miss him. Hope he was finishing the journey with us. Tonight, we will have a send off dinner for him.
Will keep posted if we do get rolling early. Otherwise we are in for an even longer rough ride tomorrow. Cheers!
Technorati Tags: India Bike Trip, Joe's photos