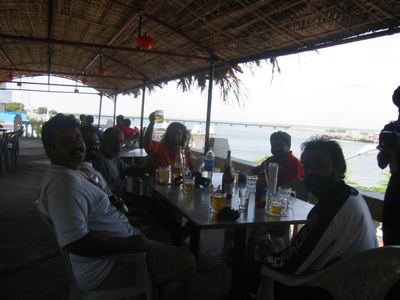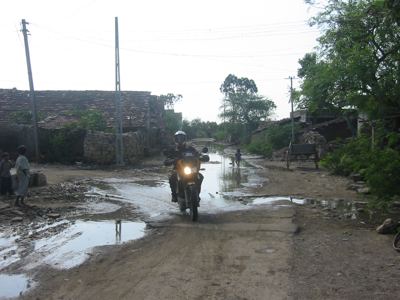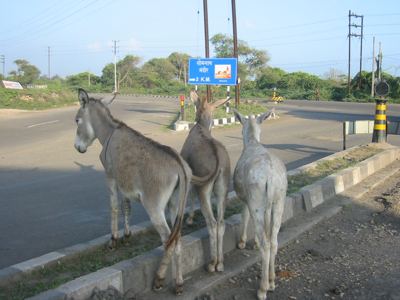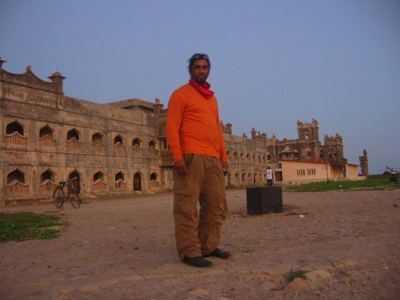 October 1st, 2005. Good day today! got up by 5am and tried to get riding by 6:30am . Off by an hour, we were out the gates of the palace hotel by 7:30am. Got some chai on the way a couple of hours later and had some sandwiches we had packed up from the hotel. We made it to Diu, (an union territory, which was under the Portugese rule till the 60's along with Goa and Daman. ) for lunch. (see photo. from left: Naveen, Amit, Navroze, Bari, Joe, Rakesh, Dinesh).
After a 2 hour lunch we hit the road and very soon got lost in a village with roads that are well… (see photo). We pulled over and Navroze asked an elderly man dressed in traditional garb and a massive head dress and topped and RayBan sunglasses for directions. He looked at us and told Navroze that we seemed hopelessly lost and that we should come to his place have some roti (bread) , milk and some rest and then he'll direct us to where we need to go.
The people have been very kind and friendly.
We got back on the road towards the next town Viravar where we were waiting for the jeeps to catch up. (See photo of 3 asses). We weren't too far from our final stop for the night, Charwad. We got here by sunset and it is quite lovely. We are staying in a couple of cottages on the beach right next to the ruins of the old palace (see photo).
The weather during the day is quite hot and humid and now in the evening, the ocean breeze is cooling us off.
Soon we shall have dinner and hit the sack soon for another early rise tomorrow. Looking forward.


Technorati Tags: India Bike Trip