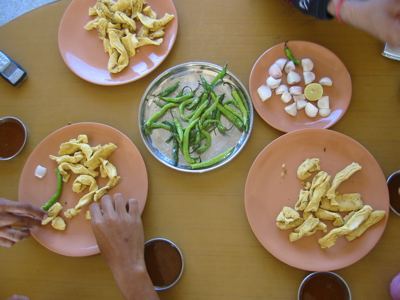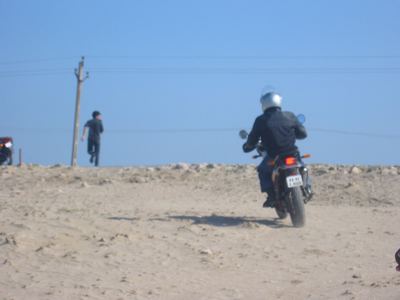 Today was a landmark day. We set off from Chorwad by 7 am. we rode for about 30 km and stopped for a traditional Gujarat breakfast. ( see photo) It was unexpectedly delicious. We saw these 2 guys walking on the road in their traditional white clothes dyed in pink carrying a bunch of peacock feathers. It was quite a visual and we asked their permission to photograph them. Unfortunately, they were doing a religious journey and wished not to be photographed.
We headed out towards Porbandar. On the way we stopped by the ocean and tried to get our bikes on the beach.(see photo) The sand was not as hard as we thought and so we couldn't really ride on the beach.
It was very special going to Porbandar today. It's the birth place of Mahatma Gandhi. Coincidentally, today is his birthday. So we stopped by his house and took some pictures (se photo).
The cows and bulls here are absolutely magnificent. They have such beautiful faces and their horns are like I have never seen before. Solid with sensual curve to he horns.
Off to Dwaraka, the place where "Krishna" grew up. small town with most people making pilgrimage to the temple
( see photo). We had some lunch there and decided that we need to go the extra 33 km to Okha. It's at the Northwestern point of India with a coast line. (see photo).
Then we headed back to Dwaraka filled up gas and rode out to Jamnagar. The first 115 km were really good with newly surfaced roads and sparce traffic. but that sure made up for the last 25km. It was a deja vu from Mumbai suburbs ride.Badly thrashed roads looking like swiss cheese and the dust being kicked up by the trucks made the visibility quite poor in the failing light. It probably took us more than an hour to do the last leg of the journey. Finally found the hotel and ready to hit the sack. clocked in about 415 km today.
Tomorrow is another long day to Mandvi. I hear the accommodations there are to look forward to.
Good night!
Technorati Tags: India Bike Trip