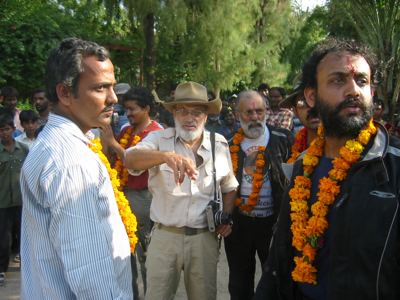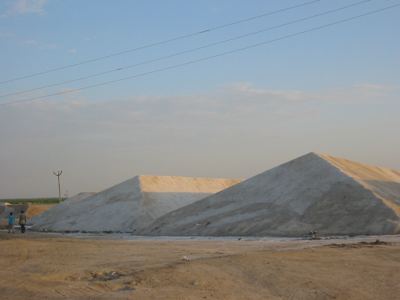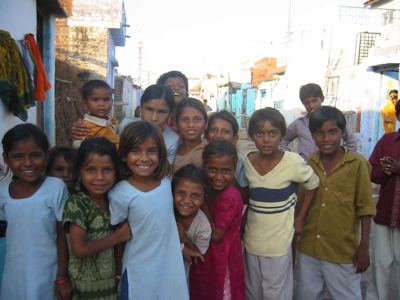 Got out off Bhuj by 7:30am before the heat and traffic kicked in. Had some sandwiches packed at the hotel, so we could save some time. Roads were good and we were out of the town fairly soon. Actually rode out for about 75 km before we stopped for chai,
Soon the sun was up and we could feel the heat. The last couple of days, we were feeling the effects of it. Kept ourselves hydrated and the roads were very good in some stretches. one of the nicest roads we were on was not even on the map.
by about 4 pm we reached Kharaghoda(salty pits), a tiny village town on the edge od the little desert of Kutch. This area is also on the border of the wild ass sanctuary. We saw a couple of them on our ride. On reaching, the village we had a celebratory welcome by our host, Mr. Jehangir Vakil, Navroze's cousin. (see photo).
Mr. Jehangir, runs a family business here called Pioneer Magnesia works. It;s a beautiful oasis in this desert. It's lovely to take a day's rest here. Dinesh, Naveen, Rakesh and jehangir have taken a shikar in to the woods in the late afternoon, while Amit, Navroze and i took a walk in to the village and checked out the salt mounds (see photos). The kids were so joyful when they saw their pictures and followed us through everywhere, Meanwhile, Joe who had earlier cleaned all our bikes, found a baby cobra snake in the dining room and carefully picked it up with a stick and took it outside. Hopefully there aren't any more around tonight. Another baby cobra was just spotted in the kitchn as I am writing this. No worries! Everyone here is quite cool and nonchalant about it.
Last night when we arrived here, some Jehangir's friends came by for a bbq dinner and they shared with us some very exciting stories about survival in the desert and adventures on their vintage Indian Chief, vincent, Matchless and Triumph motorcycles. One of them is of the royal family in this area.
Today we had a hearty breakfast of eggs, bacon and sausage and for lunch were treated to my first authentic Parsi lunch. Tonight, we are having a muslim dinner. looks like I am going going to gain weight than lose a few pounds.
We washed our clothes today and are setting off to Rajasthan state in the morning. We are to have a night halt in a town called Barmer, but might try to make it on to Jaisalmer for the night halt. It would be close to 500 km and the heat is something to be taken consideration of.
I have no internet connection here and so have to post this blog when we reach Jaisalmer.
Technorati Tags: India Bike Trip