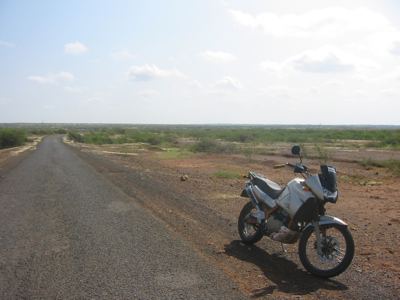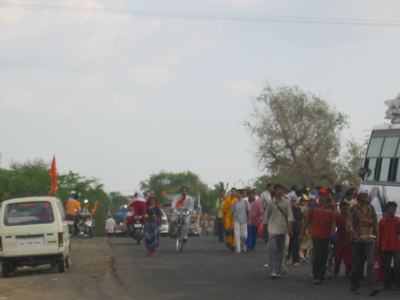 Got up by 6 am and got rolling by 7:30 am. Just can't seem to leave any sooner. It was cool when we left, although, it was already beginning to feel humid. The roads were very good and hardly any traffic. We were riding through the desert of Kutch ( see photo) which was very arid and dry. Hardly any people around and absolutely no tree shade to pull under when we stopped for a break.
Got to Koteshwar, the western most tip of India. (see photo). Nice moment. It was bloody hot and we couldn't wait to get moving. at least then, the wind kept us slightly cool. 35km from there was Lakhpat, one of the most successful trading ports during the 17th century. Bhuj is another 100 km from there and we were getting hungry and tired from the heat. It was already 2 pm.
Navroze picked up a local guy who needed a ride to the next town and offered to show us a place to eat. He asked Navroze what we were doing and when he got the low down, mentioned to him that either we had to be rich or really mad.
Another interesting anecdote that has occurred a couple of times. when we park, some onlookers would ask us how much the imported bikes were. When we quoted them a price, they would tell us how foolish we were. For the price of one bike, we could have gotten an air conditioned car and all 3 of us could have gone comfortably on it.
The road conditions today were good for most of the day. good roads and easy traffic. Then we had the last 100 km to Bhuj which we all ranked as the most trying and difficult ride so far. There was a pilgrimage procession along the road heading to a temple that was 100km long. (see photo).It was longer, we just stopped off at Bhuj, our night halt. That absolutely exhausted us all. The heat, the lorries driving completely in our direction to avoid the pedestrians. A lot of the pilgrims have been walking for days, for as much as 400 km , some barefoot, some blind folded holding on to others. They were all very joyful shouting out praises to the goddess.
It was just very strange starting out the day cool and on deserted roads with hardly any people around. Then we end the day hot and dusty and people for hundreds of kms.
Glad to have reached our hotel Lake View in Bhuj. we all feel exhausted but in good spirits.
Tomorrow, we head to Kharagoda, where we have another day's rest. So looking forward to it.
Thanks again to all for checking the blog and posting your comments.


Technorati Tags: India Bike Trip