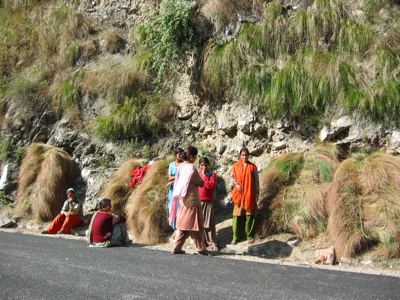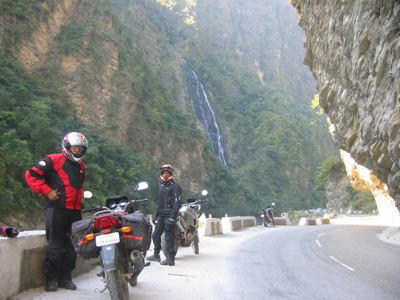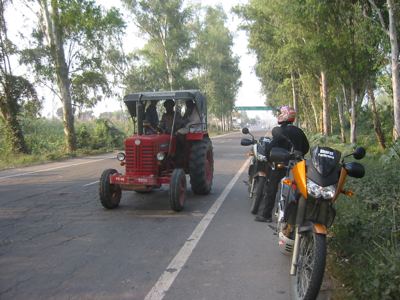 October 20th. what a refreshing break it was to be in Manali. (see photo). Much warmer during the day around 20 c. Manali is a small tourist destination at the foothills of the himalayas. Very picturesque. Noticed a lot of couples who seem to be on their honeymoon. Also lots of foreigners ( non Indian) on Enfield Bullet motorcycles. Meanwhile Joe serviced all our bikes, from all the beatings they had endured in the hills. Thanks Joe! Most Crucial member of the team.
It was so refreshing to take hot showers and sleep with a heater although it wasn't absolutely necessary. We celebrated the night before with a bottle of Johnny Walker Green Label whiskey , i was carrying, waiting for an opportune moment. We all felt, we need to when we reached Manali. It did say "green Manali, clean Manali"
Our video photographer, Rakesh took a hiatus from our adventure to get back to Pune to finish some work on his film. He will re join us in a week. We hope! We saw him off and generally walked around and I was busy updating the website. since I still didn't have any Reliance wireless connection, I couldn't upload. so I had to wait till I got to Chandigarh, Punjab.
Oct. 21. We had breakfast at the hotel and set off around 8:30 am. It was still quite cold at about 15 c when we set off. Before we left the town, my bike began to stall and Joe did a quick fix and got me going again. The fuel pipe was bent and he opted to take care of it later. The roads were quite nice though we encountered more traffic in 4 km than we did in the previous 4 days. We set off towards Kullu (see photo), the capital of Himachal Pradesh, which wasn't very far.
Soon as we came down the hills more, it got warmer and we soon took off our thermals and the warm jackets and slipped in to something more airy and light. The mountains were very green and at the bottom was a stream that was quite full and flowing next to the road with a constant hum. at some points the water was so still, it looked like a sheet of glass. The mountain side was very lush with plant life including date palm. It was quite a sight (see photo) with waterfalls leading from the mountains in to the stream. The waterfalls we saw in the higher mountains were frozen solid.
We also saw lots of school going kids all immaculately dressed and walking along the roads to their schools. We saw some women carrying bundles of grass ( see photo) that they pick from the steep hill sides. Joe actually went up to them and tried to carry a bundle on his head and couldn't even pick it up on to his head. They were so heavy.
At around 2pm we stopped by a small restaurant by the stream and had a relaxing lunch. The winding road was perfect for any motorcycle enthusiast. Freshly paved and with enough turns and twists to keep us wanting more.
We then entered Punjab state (see photo) again. Chandigarh was a planned city designed by Le Courbousier. and it is all on a grid with wide streets and real straight roads. By the time we reachd the city limits it was 6 pm. But then it took us an hour and half to get to our hotel. There was a lot of traffic and that is all we could see in that light. Missing the Himalayan air already. We reached hotel North Park with the help of a hired local. The hotel was very nice, spacious and clean. Already we were wishing to stay back and really enjoy it. But we are already behind schedule by a day and have to move on.
Finally had internet connection! Got to post some of the blogs, that i had written earlier.
Technorati Tags: India Bike Trip