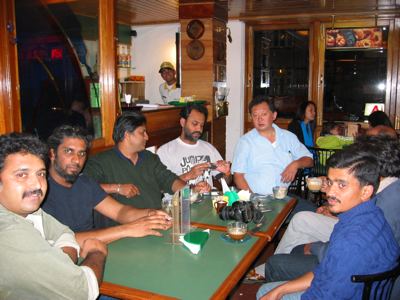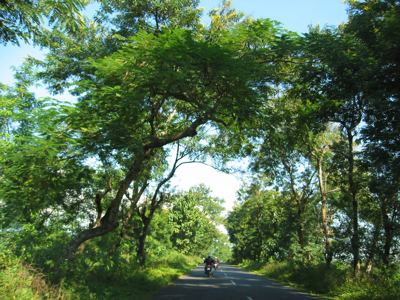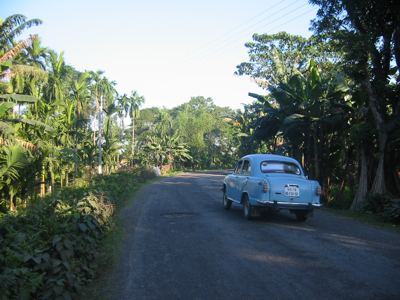 sunday, October 30
I screwed up on the dates in the previous entry. Also, I noticed that i misspelt the town name "Darbanga" in the title entry: Gorakhpur-Garbanga. I'm sure there are more, and I'll try to correct.
We heard about the tragic bombings in New Delhi, the train derailment in A.P. and about the many flooded metro cities in the southern India. Our heartfelt sympathies to those affected. For those who were concerned about us, we are all O.K. and in fine spirit.
Gangtok was lovely in the evening. No vehicles are allowed in the main part of town(where we were staying). So all vehicles are parked else where and the streets are for pedestrians only. Lot of young and old folks walking and socialising. We stopped at a coffeeshop (see photo) and had a nice coffee for a change. all of Western and Northern India is primarily tea drinkers. Tough for the southies, who relish in a nice strong cup of coffee. We had dinner with Jigme later that evening and got back to our hotel and got to sleep a little past midnight.
Woke up by 6 am and got to our bikes parked in Jigme's garage down the road. He then offered us some coffee and by the time we finally rolled, it was a little past 8 am.
Our destination was coochbehar in west Bengal state. We had to take the same road,NH 31-A (see photo) back down the mountains for about 90 km before we got on to NH 31-C. The road was smooth and after the previous few days of rough riding, we were sure enjoying this. It was a gorgeous route and the mountains were to our left and tea plantations all around. although it was hotter and more humid than where we just were, it was still pleasant. Riding under the canopy of trees (see photo), with green fields all around, was refreshing.
Before we knew it, our destination for the day was only 50 km away and we stopped off for a chai at a road side village. We reache Coochbehar by 4pm (can you believe it?!!!) way before it got dark, while the sun was still up. Tghe ride was only about 250 km and we realised how much nicer and easier it is to do 8 hours of riding, if the roads were nice.
The hotel we checked in to is hotel Ellora in the middle of town. Decent little hotel and luckily for us, it is Sunday today, so the shops are closed and the roads weren't all crazy.
Having the internet connection makes it that much more convenient to stay current with this blog.
Tomorrow, off to Gawhauti, Assam.
Technorati Tags: India Bike Trip