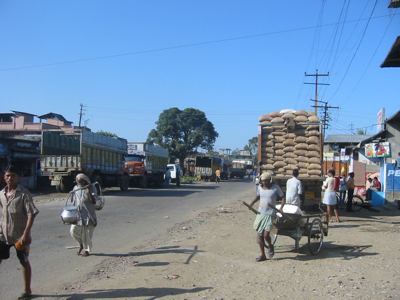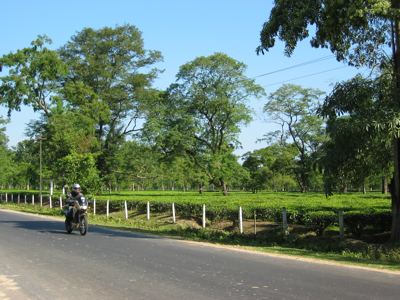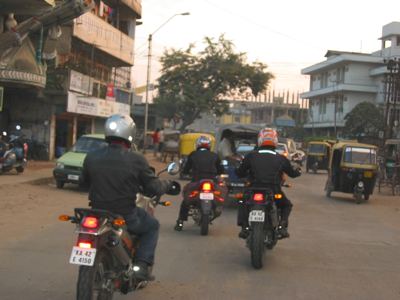 Thursday, November 3
We were told that the road from Dibrugarh to Dimapur was "too good" by the BRO. We left the hotel the same time as usual, around 7 am. Barely had we passed the city limits when Navroze's bike had a mulfunction of all the electricals.
it was assumed that there was a short in the wiring due to the pressure cleaning the bikes went through earlier in the morning to get rid of all the dust. Anyway, joe did a quick fix and we got rolling again. But the problem continued a few more times and Navroze tried to ride for a while longer with no horn or indicator lights. Riding without the horn here is quite risky and I kept a close distance ahead of him. The road was very good as we were told and we decided to pull up by a chai shop and open the bike up to fix the nagging problem. Soon with the horn loud and chirpy, we rode out. The road was clean and smooth with lovely curves going through more tea estates (see photo).
We were covering the distance in good time and so kept pulling over to take a bunch of small breaks. Before dark, we reached Dimapur which is in Nagaland state bordering Assam state. The BRO over there received us outside with a banner welcome and escorted us to their camp in the middle of town. The nicest of them so far, very clean and spacious. The personnel were very hospitable and generous with their time. The man in charge, Brigadier Narasimhan had organised a cocktail party in our honor at 7 :30 pm. We had 2 hours to clean up and party.
It was a delightful evening, and they showed us a small film explaining the history and accomplishments of the BRO.
They are the unsung heroes who work in treacherous border areas of the country, making them accesible to the army and civilians, and do not receive the attention or credit that they deserve. Cheers!
We planned to driving to a town called Kohima the next day to check out more of Nagaland. We were strongly advised not to venture any further than that town due to militant insurgent activity in those areas. That was fine with us.
Technorati Tags: India Bike Trip, Joe's photos