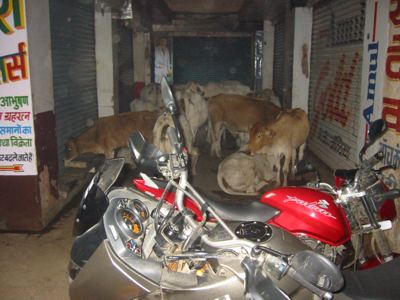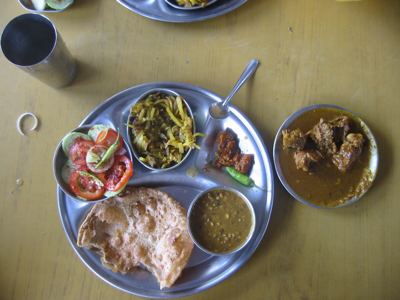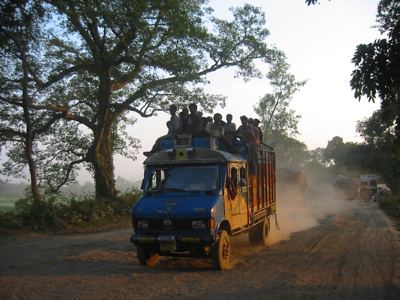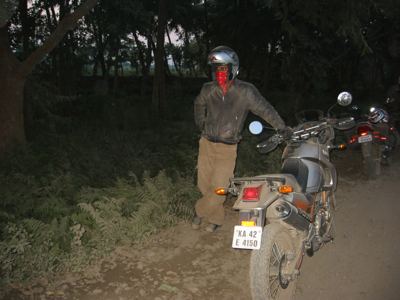 Thursday, October 27
Today is my brother Gautam's birthday. Happy Birthday!
We couldn't leave by the crack of dawn as I had hoped. Instead by 7 am we got started. We kept asking for directions out of town to the next town called Madhepur. Following a bunch of directions, we ended up 17 km at a gas station in the wrong direction. Instead of going east, we were headed South. They suggested we continue further south and catch the national highway where the road is better than the one we were supposed to be on. so we added an extra 100 km to our already long route for the day. When we reached the NH 3, the road seemed promising and we felt that perhaps it was for the best as we could cover more ground on better road. Stopped off for a traditional bihari lunch (see photo) at a roadside dhaba.
No sooner than a hundred km or so, the roads of Bihar proved to be the most difficult, we have ever been on. Even in the himalayas, at it worst we covered 20 km in an hour. Here we did 18 km in an hour. The roads were absolutely unforgiving. If we found a 4 inch piece of tarmac on the edge of the road, we would be on it. Our asses were thrashed over and over again.
We sat down(or stood up, rather) for a chai at around 4pm and decided to see how much further we could continue. We still were 150 km away from our destination, Siliguri, West Bengal. Within afew km we realised that that it was impossible to carry on and opted to call it a day at the next nearby town called Purnia.
We were covered head to toe in the dust and by far, our bodies had taken the worst beating. checked in to a hotel Harsha which was the home to even more bugs than the last 2 places. We had to keep the lights off, so the bugs wouldn't come through the cracks of the bedroom windows. It was quite a yucky night!


Technorati Tags: India Bike Trip