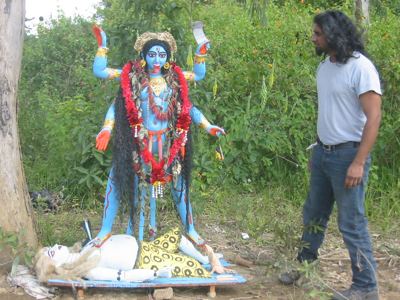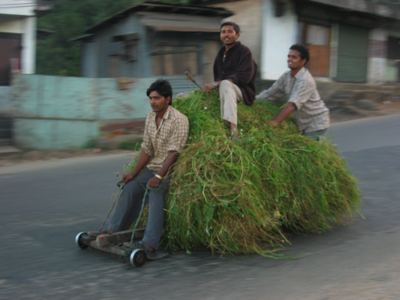 Sunday, November 6
The road to Shillong promises to be better than the road we took there, so say the locals. We got started by 7 am and it was quite foggy as we were rolling down the mountains. Quite serene. Soon we pulled up to the side so we could get some pictures. Immediately a jeep full of police pulled up next to us and asked us where we coming from and the other same questions. The ASP (additional super-intendent of police) was actually very nice and had on a big smile. He was quite thrilled that we were doing this and was quite philosophical in his thinking about the local situation which he shared with us. He offered to arrange lunch for us at a place called Umrang so, about 100 km away which is where he was going and it was on our way. So soon we had an escort of 3 police jeeps showing us the way. The road was quite bad in some areas but mostly it was fantastic. The road ahead was single lane with bamboo groves all round hugging the road. The mountains were lush and overgrown with flora, which i shall not even attempt to name. Stopped off a couple more places and took more pictures.
We got to Umrang so by 10 am and were shown to the police bungalow. Prime location! Beautiful clean big building overlooking a large blue lake. The cook there was somewhat surprised that we had wanted to eat right away and get going to Shillong. We have been skipping breakfast a lot and having a brun ch at around 11 am or so and follow up with some chai and biscuits later in the afternoon. Walked over to the lake and saw the local town folk preparing for a religious ceremony on the banks for the next day. Little kids were swimming and bathing in the lake. Looked so inviting. Got back to the bungalow and had our lunch. When the ASP had asked us to stay for lunch earlier in the morning and we had agreed, he immediately contacted the bungalow on his walkie talkie and asked them t prepare lunch. As always, we mentioned to him that we were non-vegetarians. So he calls back and says" Roger, Roger, Non-veg, Roger!" Very amusing.
After lunch we headed towards Shillong which was another 145 km away. The road started out kind of bad for the next 50 km or so and then it was smooth riding. Beautiful tarmac on lovely mountain side. Our asses were thankful.
Truly, the state of Assam is gorgeous! It has everything from forests, hill stations, abundant rivers, and views that are spectacular in any direction. The people were all very nice and beautiful. Never posed a threat to us directly. Roads were good, bad, straight, curved and topsy turvy. Great for motorcycle riding.
We soon got in to Meghalaya state where we stopped off for chai at around 2:30 pm. We were only 50 km away from Shillong, the capital city. We had covered over 11,000 km so far on our journey.
Got to town by 4:30 pm as the light was going down. Had made arrangements at the hotel Pinewood, which was fairly easy to find. Quite a quaint hotel. Shillong being at about 7000ft above sea level, was quite nippy as we were riding there. By evening it was around 16 C. Nothing compared to Leh, ladakh, but still cold.
I wanted to sit down to write my blog, but didn't get a chance. We were to get ready and go meet Dinesh's friend Marcus's in laws, who live there. Navroze, Dini and I went there and had a very good evening meeting everyone, particularly Neil who is a trained concert pianist. Fantastic wine and a delicious meal wrapped up our evening.
The plan is to leave by 6:30 am tomorrow to Cooch Behar in West Bengal via Gawhati. It's around 450 km and that's a long ride. A few days earlier we had covered the Cooch Behar to Gawhati in 10 hours. He had to back track on that same road and also add another 110 km from Shillong to Gawhati. Atleast a 12 hours ride to anticipate tomorrow.
Technorati Tags: India Bike Trip, Joe's photos