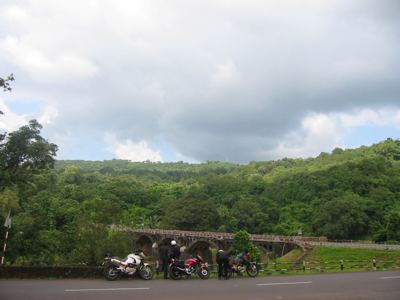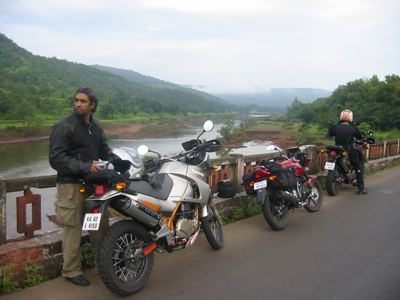 Finally here In Bhavnagar, Gujarat, for a day of much needed rest. Let me update on how we made it here. Unfortunately, there has been no internet connection available in the last 2 places and so I could not post. Let's go back to where I last posted.
We left Panjim after a hearty breakfast at around 9am. Joe had already changed the oil in all the bikes. The ride to Ratnagiri was absolutely breathtaking. The roads were fabulous. Hardly much traffic on the roads and the landscape was lush forests on the western ghats. We ket stopping to take pics and just take it in. The air was clean with no hint of pollution. There was a calmness all around, even the tiny villages and towns that we went through were very mellow. No sense of urgency. We stopped every 100 km for a chai break (see photo).
We soon got in to the next state, Maharashtra. We even had some rain for about half hour. Very refreshing. The landscape continued as before until we reached Ratnagiri by around 4:30 pm. It was nice to have a late lunch and still have daylight to go by the harbor for a while. One of our crew members, Naveen Bopiah is an avid fisherman who was keen on trying his luck. Didn't have any though! Sat on the lava rocks and watched the sun go down. Pretty sight and calming. Was stinking of fish. Lots of fish being salted and dried on the roads.I guess one has to get accustomed to it to live right around there. Got back to the hotel Alankar, which was right on the highway about 10 km from the town. Bummer, no cel phone reception there. so no blog. We filled up petrol that night to save on time to leave early next day. The next day was to ride to Daman, about 450 km from Ratnagiri, in the state of Gujarat. Navroze had been insisting that it was going to be a hard ride and we need to get going.
Hard as we tried, we couldn't get started till about 8:30 am. We made it down the ghats on to flat lands and had lunch and continued on. The weather was getting hotter and humid. The landscape was getting more urban and not really that interesting. We soon got to the expressway to bypass Mumbai and stopped to wait for the 2 jeeps to catch up. we waited and waited for 2 hours (see photo) trying to figure where One of the jeeps had ended up. Finally we got going at the peak rush hour going through Thane on the outskirts of Mumbai. Because of the unbelievable rains they had recently, the roads were beyond description. Hard to even explain the traffic and road conditions without you feeling that i am exaggerating. It was the hardest 2 hours of riding that i ever hope to do in my life. We covered 35km in those 2 hours. The roads were completely stripped of any asphalt and the traffic was painfully slow and absolutely congested. I felt bad for the jeeps who to keep up with us. The bikes could at least weave through the cracks. Boy! splitting lanes in U.S. traffic at its worst doesn't even come close to this. Finally when we filled up petrol and got out of the city limits and into Gujarat state line, The highway was incredible. 2-3 lanes each way with a divider. No pot holes and we made it to the hotel in Daman just after midnight. Daman was under the Portugese colony along with Goa and Diu, till the 60's. Our hotel was right on the beach and the tide was low in the morning when we got out to have breakfast.
We had another long day ahead, about 450km, but getting started was once again a challenge. so by the time we got out, it was already 10am. We went about 25km when we relised that Navroze had lost his cel phone. We called on that number and it was back at the hotel Miramar in Daman. Must have fallen off when he got on his bike. So we waited around at another Chai shop while Navroze rode back to pick up his phone. When we re grouped and started, it was already noon. Had no idea how much we had to cover and the roads were quite bad. When we got to the Narmada river bridge outside of Baruch, we stopped to take some pictures. Navroze pointed to another bridge further down the river which his great grandfather was contracted to build. Hence his family name, Contractor. That was very cool and felt connected. We had lunch outside of Baruch around 4:30pmand filled up the bikes again. Navroze's bike is giving him incredible mileage of 50-55 km / litre. Dinesh's and mine are giving about 20 km / litre. So we need to find the right gas station more than Navroze. The bikes have been handling the roads very well. The suspension on them has been very kind to our bodies. Other than the sore bum, I am fine.
It was very late by the time we got to Bhavnagar. Let's just say, VERY late. We never intended to be riding at night and tomorrow are planning on leaving by around 6:30 am to make it to Chorwad, our next stop.
Here at Bhavnagar, we are the guests of the Maharaja of Bhavnagar and are staying at his Palace hotel It's about 200 years old and he was the first king to give up his palace to the people after the independence. This is our much needed rest day. Joe, took all the bikes apart and serviced them. by the way, it is Joe's birthday today! Have to have a drink in his honor (Gujarat is a dry state. Prohibition!) There is a pool here that I want to go take a dip in and rest early tonight. There are a lot of peacocks here, at the palace grounds. Have never written this much before. I'll keep the next post more day to day. Hopefully there is internet signal.
Amit is our still photographer who has been taking some fantastic pictures. He is working on posting them on our official website.
Rakesh has been the filming the ride in dv and when completed will give you the view of our experience, which we have been privileged to, for the past few days.
Naveen has been the guy driving one of the jeeps and co ordinating and planning the logistics of the trip, along with Navroze, who is the mastermind.
Ramesh is the other driver for the second jeep.
I'll get a photo of everyone together and post it soon.
We have a had a hitch in posting photos and the travellogue on our official website for the past few days. We have finally sorted it out. Check out more photos and thoughts from the other riders and such at Bharat Parikrama
Thanks to all for checking out the blog and for your comments. I have read them all and am deeply touched by all the support and encouragement. Feels good to be so far and still connected. CHEERS!!!