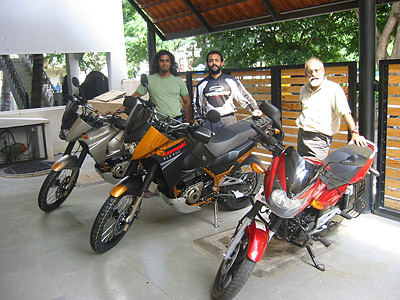 Here I am , finally in India. Reached safely on September 20th night to Bangalore. Navroze has settled on an Indian made motorcycle, Bajaj Pulsar 180cc for his ride. Dinesh and I settled for Kawasaki KLE 500 as our choice for the motorcycle. I'll be riding the silver and Dinesh the black.
The bikes were finally delivered to us late last night and our mechanic Joe has painstakingly put them together this morning. The tires still need to be inflated and we need to test ride them later today and tomorrow.
We have been meeting with the local press who want to cover the event.
We are scheduled to start "BHARAT PARIKRAMA" (circling India) on Sunday, Sept.25th at 8am from Bangalore.


Technorati Tags: India Bike Trip