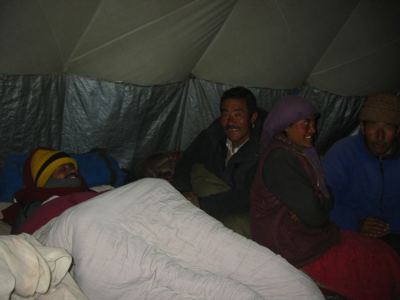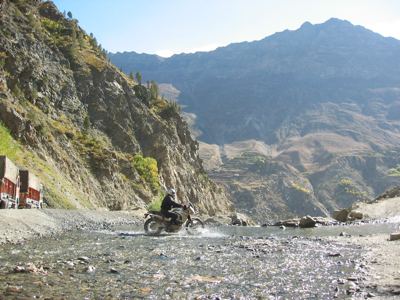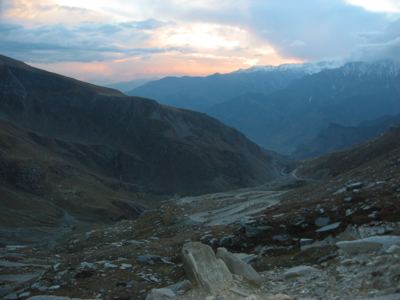 We woke up cold and wanted to get going before it got late. We were told to cover about 240km to a place called Sanchur where we could break if the skies were clear. If overcast, we were advised by the army personnel to carry on through the next pass or we would be blocked off from going to Manali, our destination.
After we left Leh around 8 am we soon were climbing the second highest motorable road in the world, Tanglangla pass at 17,582 feet above sea level. Once again, the views were spectacular. The air was fresh, except when the lorries passed us. (smoke is much worse than on the freeways of L.A.). When we left Leh which is at about 10,000 ft, the temp. was around 6C. Soon the temp. was dropping and the wind chill was numbing my fingers and toes(even with 2 sets of warm socks and gloves).
After the Tanglangla pass we came down to about 14,000 ft where the landscape was flat. The roads were pretty bad for most part. Akso, since it was so cold, my camera wasn't working. The battery was froze. Ocassionally, Joe's camera would work from being in the jeep and he managed to get a couple of pics.
We rode for about 50 km in the high plains and then stopped by a tiny army camp area in a place called Ping to have some potato parathas. There were some workers eating there who were absolutely covered head to toe in tar. Except for their eyes and the inside of their mouth, they were completly black. Navroze talked to them a little and learned that they were hired to work on the roads there with hardly any protection and they barely made enough money to even send back home. It was a very brutal job. Even with all my gear, i was cold and these chaps were mostly with one pair of tattered socks and slippers. and a makeshift jacket.
We soon reached Sanchur at about 4 pm. It was not a village by any means. There was an army camp and a few tents along the road side, making up this village. By the end of this month, the roads are closed off for the next few months of winter. Everyone felt bitterly cold and the sun was behind the mountains, making it colder by the minute. We were advised by a local chap in the tent to break there for the night and not proceed any further till day break next day. Somehow, we felt it would be the right thing to do, as we were feeling cold and a little sick (nauscea) from lack of oxygen. We were offered a tent with blankets to get under and we decided to camp there. It was so cold, we didn't even get out of our riding jackets or anything. ( see photo).We didn't feel like eating much either, since then we would have to deal with the consequences of having to go outside for relieving ourselves. We tried to go to sleep hoping it would day break soon. We were having a hard time breathing and trying to be comfortable in the tent. Kept waking up often and asked if anyone could see the sun yet. It was only 1:30 am . This went till till about 7 am, when we opted to get up and get some chai. It was -6 C in the tent. At -4 C water freezes. So any water we had was frozen solid.
The bikes and the jeeps were frozen and hot water had to be poured over the engines to help start them. on the jeep engine, the hot water when poured, froze immediately. So we decided that the 3 bikers would carry on slowly and that the jeeps would catch up after they started.
The roads were extremely bad from there and the water that were on the roads were now ice. Thee landscape was barren and cold. (see photo). Our fingers and toes were frozen and when we rode in the sun, it was around -6 c as opposed to in the shade where it was around -10 c. My camera wasn't working and it was quite a struggle to take a pee break even. Hats off to those living in the cold. Glad i am from South India and even in U.S., living in warm L.A.
We covered 80 km in 4 hours and we still had about 140 km more. So we were determined to keep going however slowly, without many breaks. There wasn't even a place for chai, anyways.
When we came down to about 6000 ft, it felt so warm and we stopped at a village called Darchu for some eggs and chai. It was refreshing to see trees and were so relieved to be out of the bitter cold.
From there we srossed in to the next state, Himachal Pradesh. The views were still spectacular, very green and the mountains were awesome. Felt like I was in switzerland.
We still had one more major mountain pass to go through before we got down to Manali. The Rohtand pass was at about 13,000+ ft and by the time we got up there andwere winding down, the sun was already setting and was getting dark and cold ( see photo). We are 3 little dots going down the mountain in the photo.
By the time we reached Manali, it was 7:30 pm and we were so relieved. Having stayed with the army for the past couple of days, with no heat and barely some hot water, we decided to get us a hotel instead. also, we opted to take another rest day there to soothe our bodies and mind. The past few days in the himalayas were absolutely the most beautiful and the toughest ride, so far. It literally pushed us to our edge and made us face what our capabilities were.
I feel humbled and proud to have gone through the great Himalayan mountains.
Technorati Tags: India Bike Trip