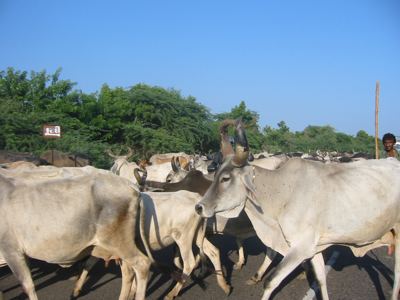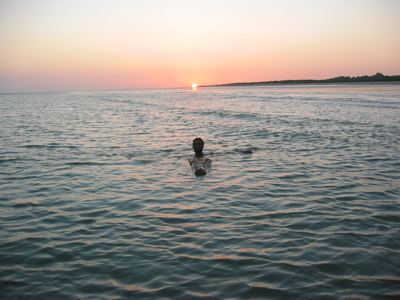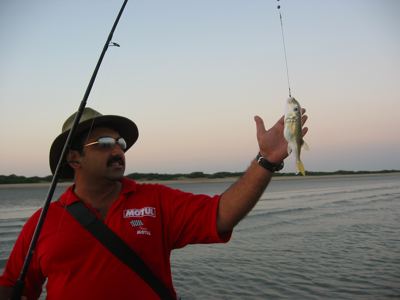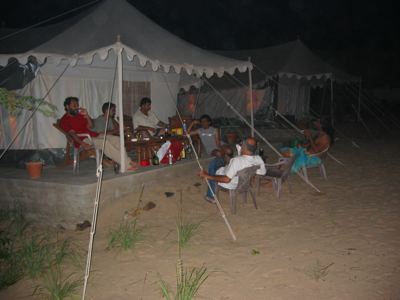 Hi Folks,
Back again! sorry, didn't have any wireless connection yesterday in Mandvi, hence couldn't blog.
We have covered quite a bit of ground in the last 2 days. We left Jamnagar quite early (by our standards) around
7:30 am. The road out of town was quite bad. Just as bad as it was coming into town the day before. We then went on to the rural roads which run parallel to the coast. After only 25 km we stopped for breakfast at a tiny shop. Got talking to Navroze about some of the documentary films he had worked on and lost track of time. can't wait to see some of the films when we get back to Bangalore.
Finally we got back on the bikes after 1 1/2 hours break. The roads through the rural areas there were quite deplorable and we barely covered much ground for the next hour or two. When the roads got better, we managed to get moving a little faster. y the time we stopped for lunch in an industrial town called Gandhidum, it was already 1:30 pm and we had only covered about 150 km. As we headed West the annular solar eclipse was in effect, but we didn't see it. (not that we were looking into the sun or anything). We wanted to make it to Mandvi before dark, because we heard the hotel we were staying was right on the beach in luxury tents. (see photo). On route, we passed quite a few cattle herds. Passing through them, (see photo), was a fun experience. They were so gentle. so well behaved and listening to the whistle of the herdsman.
In Mandvi, we reached by around 6 pm and checked into or tents, and walked over to the sea and watched the sunset. It was absolutely beautiful. Serene waters, shallow and quiet. Naveen got out his fishing rod and went to the shore for his first sea fishing. He actually caught one fish. (see photo). His excitement was captured on camera and will be entertaining for all to watch at a later day. Rakesh and I went swimming in the sea. The water was warm and quite clean. Not a soul around. The property belongs to the king, who has his palace right there, From the water, the view of the coast ha the palace on the west end and a few wind mill generators, like the ones on the 5 fwy on way to San Francisco.
We had dinner on the beach. The temperature had dropped to 23 degrees C (from 36 C during the day) Hit the sack around midnight.
Technorati Tags: India Bike Trip, Joe's photos