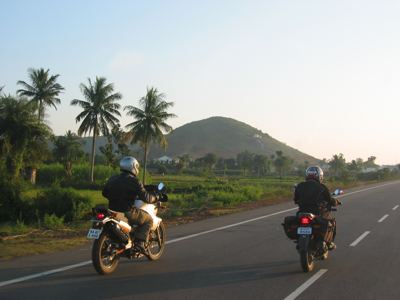 Friday, November 11
Another early rise. Would have loved to sleep for a couple more hours. Today it's another 420 km to Our destination. THe highway promises to be good. Could feel the soreness from the fall in my hip and in my neck. Got a better view of the damage to the bike (see photo). Had eggs and toast for breakfast at the hotel and got going. The roads were quite nice and the landscape was beautiful.
We planned on getting to Andhra Pradesh state border which was about 200 km away and then break for lunch. Dinesh took off ahead of us and we planned on meeting for lunch up ahead. Meanwhile Navroze and i cruised on the open road at about 100 kmph and stopped for some refreshments.
When we reached the border, there was an excitement in the air around us. The sense of familiarity with the language and people made the communication easy. We went ahead another 50 km and had a traditional andhra food on a banana leaf. We were all giddy with joy and the food was fantastic. The others at the dhaba must have thought we were nuts. Afterwards, Dinesh felt he wanted to get to Vizag (short for Visakhapatnam) as soon as possible and meet up with my brother Ram and a bunch of friends who were waiting to receive us and party. Navroze, Joe, Rakesh and I rested up for another 45 minutes and then got rolling to finish up the last 120 km or so left. The roads in A.P. were absolutely amazing. all the way from the border to the city.
By 6 pm or so we reached and we were put up at a guest house a block from the beach. We got a glimse of the Bay of Bengal for the first time on the east coast. from here we follow it all the way down south to the tip of Kanyakumari. Before all that we had some partying to do. It was lovely to see so many friends who greeted us and later we shared with them our adventures over dinner and drinks on the beach a few kms away. Before we realised it was already pat 1 am and by the time we came back and got to bed, it was already 2 am.
Tomorrow we are breaking in Vizag, so no worries.
So good to be in Andhra! Good strong coffee from here on again.
Saturday, November 11
Good to just sleep in and not having any alarms going off. Woke up around 8:45 am to the sun light coming in strong from the window. Strong coffee was followed by a few cups of the same and a feast of a breakfast was at the table. After having parathas and eggs for the past 45 days for breakfast, having dosa, vada and idly with sambar was delicious. Ram had organised a masseur to knead away the knots in our tired bodies. we had a lazy morning and then we went to a bar called Chrome for some cocktails and lunch. Very late lunch. by the time we came out, it was already past 4 pm. There was a press conference arranged with the local media at 5:30 pm . We spoke to them for an hour or less.
Although i had not quite digested my lunch yet, We made our way to dinner at my dad's place. He is not here. It feels strange to have been in India for 7 weeks already and i still have not seen my parents. I plan on seeing them in Hyderabad after we are finished with this ride. Feels like i have eaten more food in these 2 days than i have in past few weeks.
Tomorrow, a local t.v. channel is coming by to talk to us before we get rolling by 8;30 am. very tired and sleepy now. (atleast i am not on the bike) Good night!


Technorati Tags: India Bike Trip, Joe's photos