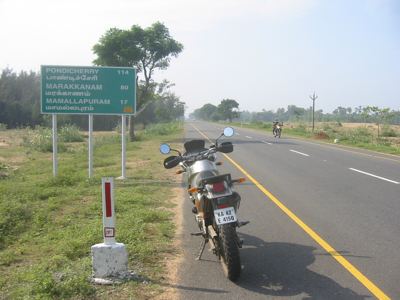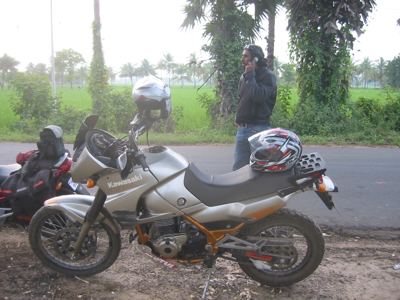 Tuesday, November 15
Woke up by 6 am and saw a telugu newspaper under my door. Surprised to see inside a photo of me with my folks from the previous day in Nellore. Got ready and was down by the bike by 7 am. Hardly a surprise, no one else was there. Was wishing i had slept longer. It didn't feel good to start the day feeling tired, as the body was getting more and more fatigued everyday. Soon Dinesh came down and slowly the others. We had planned on meeting with Navroze on the way out of town.
Our ride todaty was to have been from Chennai to Ramnathpuram, which we had figured to be around 400 km. We knew the road to Pondicherry (150 km ) was very good but were concerned about the road after that as that region was hit with some very heavy rains the past few weeks.
From Chennai onwards, Bhaskar (a riding buddy of Dinesh, from Bangalore) was going to join us in the ride. He had a very nice Honda CBR 1100 super bike. Barely 45km from our start, Bhaskar's bike began to over heat. We pulled over and Joe opened it up and found that the coolant was leaking and it wouldn't hold up. So after over an hour by the roadside, Bhaskar took the decision to abort his ride and get a van to come and pick up his bike to take back to Bangalore. Bummer, he had been planning this for a long time and was looking forward to doing this with us. Sorry man!
We had now decided to make it to Nagapattanam instead of Ramnathpuram for the night. We were still 100 km from Pondicherry and from there it was another 180 km to Nagapattanam. We figured on having an earlier start the next day to make up for the extra distance.
The road to Pondicherry was very good and the weather was was not as hot and muggy as it usually is in that area. We had intended to have breakfast in Pondi, instead we got there for lunch. I was familiar with the town as I go there every time I'm in India. So I led them to a restaurant called Satsanga, which served French and Italian cuisine. For those not familiar, Pondicherry was part of the French colony till the 60's. There are lots of Europeans and Americans visiting that city for the Auroville ashram.I go there to buy old furniture.
Lunch was very gratifying and we headed further south along the coast. This entire area was hit very hard by the tsunami last year. So, as we were riding through, we could see the camp sites for the evacuated fishermen. The road was unexpectedly good for the next 100 km or so. Navroze and I ended up on a different road from the others as there were quite a few deviations in the towns. Over the phone we figured out that we were going off by another 25 km which didn't seem so bad on that very picturesque road. So we opted to carry on and meet up in Nagapattanam. from there the road was winding through even smaller villages and the roads were also quite beat up in many areas due to the rains. One of the main bridges had collapsed in a town we needed to pass through and there was another 20 km diversion through rice fields and in the darkness of the night, we were wondering where the hell we were heading as we couldn't see any lights anywhere. Finally we reached the hotel in Nagapattinam by 8 pm. Rahesh, Ameet and I decided to have an early dinner and catch up on sleep. I was so exhausted that i fell asleep by 10:30 pm without even getting out of riding clothes.


Technorati Tags: India Bike Trip