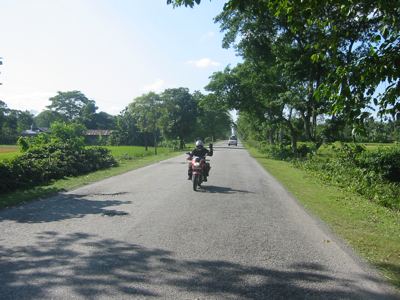 Monday, October 31
Happy Halloween!
I'm missing a couple of fun halloween parties back in Los Angeles.
Today we are heading to Assam state, famous for tea. I had always wanted to visit this area.
We got started by 7:30 am and the road was very decent. We tanked up in town and hit the national highway 37 to Gawhati, capital city of Assam.
Went through a lot of small villages and towns, where the people seemed really nice and friendly. we soon crossed into the Assam border, where we were occasionally stopped at the police check posts and without any problems cleared to go further. Since there is certain insurgent activity such as extortion and such, there was a concern. By the suggestion of the army, we stayed on the national highway which runs through the middle of the state. They had advised us not to go on certain routes and we sure weren't going to mess around.
There were a few areas where the road was broken up and dusty, and there was a crew repairing most of those. Other than that, the roads were terrific. so much so that when we took chai break, we just wanted to nap. We did get some quick shut eye.
As we got more in to the state, the landscape was gorgeous. Paddy fields on one side, mountains on the other, with clean air and blue skies. The weather was perfect. No rain, just warm sun.
By the time, we got to Gawhati, the sun was setting and it was a pretty one to see as we soon crossed the bridge over the Brahmaputra river. We were being hosted once again in these north eastern states by the BRO and we soon found their camp.
The sun was now setting much earlier in this eastern region, by around 4:30pm and gets light out as early as 4:30am.
We sat down to plan out the next day's route to Itanagar in Arunachal Pradesh state. One of the officer told us that the road was quite bad and that we would not reach there before dark even if we left by 5 am. So we were contemplating scratching that from our route or planning on breaking the journey in to 2 days. Navroze then contacted the person in charge in Itanagar, Commander Pandey, who was very enthusiastic about us coming there. He said that he had just driven on that road a few days prior as it was under his jurisdiction and that the road was very good. That was awesome news for us and we hoped he was right.


Technorati Tags: India Bike Trip, Joe's photos