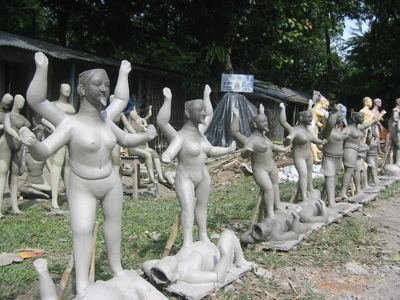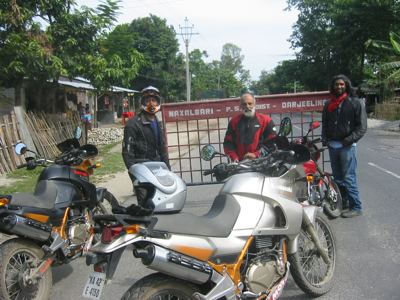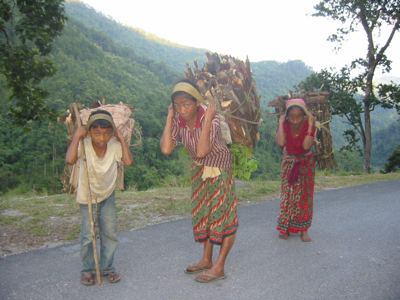 Friday, October 29
Very determined this morning to make it to Gangtok, Sikkim by night fall.
The night before, Dinesh and Naveen spoke with 2 chaps at the hotel and enquired about the road ahead of us. They having travelled a lot on those roads recently suggested an alternate route to Siliguri, in West Bengal. We figured that even if that road is bad, it couldn't be any worse. so we followed their car for 45 km as they were going in that direction. So instead of just carrying on east, we headed north towards the Nepal border and then east to the next state.
The road was a single lane road going through a lot of villages and tiny towns. Hardly much traffic and the roads were much much more pleasant to ride on. After about 3 hours we crossed in the West Bengal state. But the last 3 km before the state line ended, the roads were thrashed again. almost like one last ass whipping. The sign read "end of Bihar". Boy1 were we glad! There was a certain sense of euphoria as the landscape had changed as well. Lot more trees and the himalayan mountain range was once again visible. The roads were so much more nicer. We passed by a number of artisan's shops where they were sculpting idols of the goddess Kali (see photo) for the upcoming Diwali holiday on Nov.1st.
Soon we came through a town called Naxalbari. Had to stop to take a picture. Not only because of my name but because of its political standing. It's the birth place for the Naxallite movement in India. For those not familiar, they are the extreme left wing guerilla organisation who are considered a threat and danger to the establishment. Very strong presence in Andhra Pradesh, my home state.
By 1:30 m we reached the town of Siliguri. Our cameraman, Rakesh who had taken a week off, joined us there. After lunch, we headed towards the mountains. It was a lovely ride and the views were very soothing. The air was once again breathable and we felt fairly dust free.
We eached Gangtok, in Sikkim state around 6:45 pm to be received by a very old school mate of ours, Jigme Namgyal. Jigme went to Rishi Valley school withy Dinesh and I for 3 years and we have not seen him for 25 years. He hosted us with exceptional hospitality. We shared stories of the past over drinks and dinner and he accomodated us at his cousin's hote, The Anola in the middle of town. (see photo). We decide we needed to break for a day here and catch up with rest, laundry and give our asses a much needed break.
Saturday, October 30.
After a lovely comfortable sleep in a bed with no bugs and hot water to wash away the grime and dust of U.P. and Bihar, we caught up with Jigme again. A little while later, another class mate of mine, Raman (prasad)Emani, who is now a Lt. col. in the Indian army visited us for an hour (see photo). He is stationed 18 miles north of Gangtok. It was a very lovely reunion of sorts sharing old time memories. Coincidentally, another teacher of mine from Rishi Valley, premilla Rajan was in town the day before with her husband. We had gone to see her, but she had just checked out the morning before.
We had fantastic sikkim food for lunch and a wonderful day! it's beautiful here, the landsccape, the people, the food and everything. Cheers!


Technorati Tags: India Bike Trip