Tuesday, November 22nd, 2005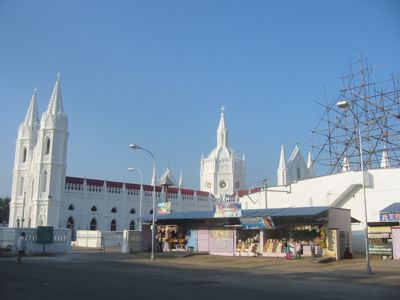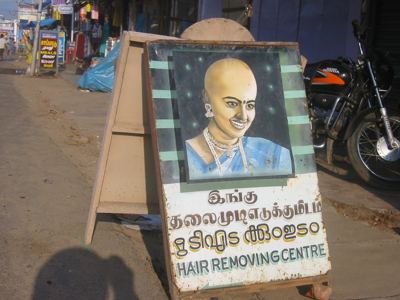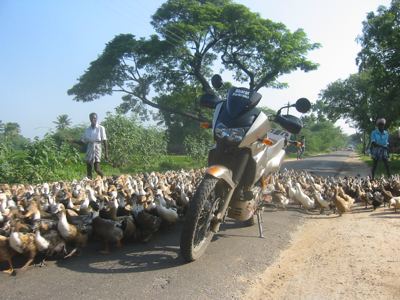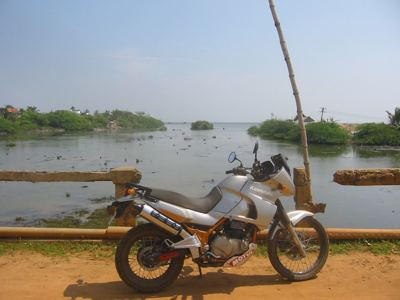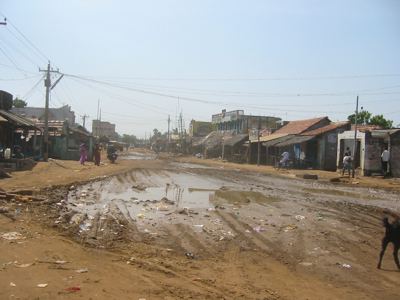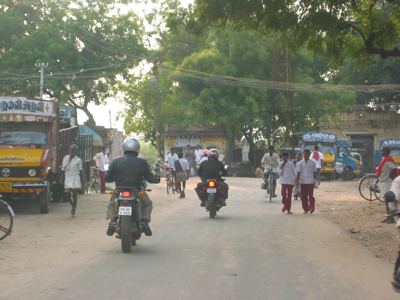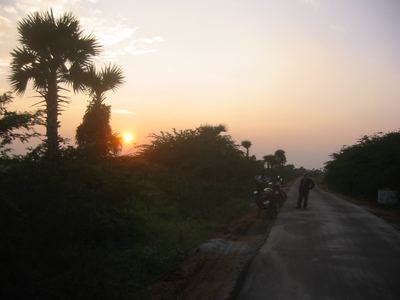 Wednesday, November 16
Today is going to be another monster ride. Firstly we have to make up the distance, we didn't cover yesterday. So we headed out by 6:30 am down further south all along the coast. Navroze and I left a little earlier with Joe and Rakesh following in the jeep. Dinesh was going to catch up soon with Naveen and Ameet in the other jeep.
About 15 km from Nagapattanam was a small town called Valankanni, where there is a very famous church. Based on a vision of the mother Mary to a local kid, this chapel was founded in the 15th century. It was later expanded to what it is today. (see photo). We spent a little time there and continued south. The roads got progressively worse and there were no signs in english anymore. So communication became quite difficult. Even though some in the crew could converse in the local language, Tamil, the information was in complete contradiction to each other. We figured to trust the info from the bus drivers.
We went through many little villages where the roads were non existent and felt like south indian version of our experience in Bihar. The weather was hot and humid. We were riding a couple hundred yards from the bay of Bengal and going through some of the villages, the stench of the dried fish was quite unbearable. We stopped for a dosa lunch in a small town and carried on. By about 1 pm we found a shahed spot and took a break there. Tried to get a quick shut eye, and soon Dinesh and the others caught up with us. As they had not yet eaten, we opted to proceed to Ramnathpuram to eat. We got there by 3 pm. Finally, It had taken us 7 hours to reach Ramnathpuram which was about 220 km from the start. The distances shown on the maps were based on the main highways and not the coastal routes that we were traversing on. By the time we had a bite to eat and tanked up, it was already 4pm. We still had over 300 km left to go.
From there we decided to head a few km inland and cover the rest of the distance to Kanyakumari by the national highway. The roads were much more forgiving and we started to cover more ground faster. Along the way, a car pulled up next to us and the passengers recognised Dinesh from their past connection. hey were headed towards a town called Thirunelvelli, which was on our way. So they led the way for us.
Soon the sun set, and as it got darker, we had to slow down our speeds. I was very clear to everyone that if i was tired, i would be pulling over to rest and not make the same mistake as in Orissa.
The roads being good, were were going at speeds ranging from 70 -80 kmph and managed to reach Kanyakumari just a little after 11 pm. we had ridden for almost 17 hours and covered 525 kms.
It was very thrilling for me to have reached the southern most point of India. We had just covered the entire east coast and it was a very hard ride.
Technorati Tags: India Bike Trip